The Jefferson Papers
Grandma Strader (1865-1968) closely followed James Hemmings' macaroni and cheese recipe. James Hemming was a Parisian taught chef and slave of Thomas Jefferson. She would say, "I was born shortly after President Lincoln declared Thanksgiving a holiday." And, she'd add "I was born free!" The Thanksgiving National Holiday was declared 3 Oct 1863 by Congress, but offered by
George Washington
26 Nov. 1789.
Mary Randolph
, in the first cookbook ever published in America, documented the Macaroni recipe in the 1824
The Virginia House-wife
cookbook. This was the first cookbook ever published in America.
Mary
Randolph
was the sister of Thomas Mann Randolph, who was the son-in-law of Thomas Jefferson. Oh, and she was a descendant of
Pocahontas
. It appears she was also the first recorded person buried in
Arlington National Cemetery
(1828).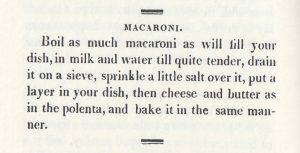 Mary Randolph's recipe, 1824
By1793, Jefferson paid duty on imported macaroni, for his then known Macaroni Pie, according to his Memorandum books. Jefferson's last grocery order, placed five months before his death in 1826, included "Macaroni 112¾ lb."
Yep, that's the recipe that Great Grandma Strader passed down.
Four Generations: Mac and Cheese at Thanksgiving
Although this family was not part of the Exodusters, in about 1896, Grandma left Kentucky and travelled to Lyons, Rice County, KS with
her teamster husband
and 4 of her seven children. The salt mines in Lyons, Kansas were looking for seasoned teamsters. The last three children were born in Kansas, to include my Grandfather.
All followed the same recipe. This included 3 of Great Grandma's daughters and my grandmother and mother who married into the Strader family.
Just like Grandma Strader, as ex-slave families and descendants moved from the south to other parts of the nation, they carried their southern culture, and recipes with them. Food has always tied immigrants, ex-slaves, and transient persons to their "home place." It's a way to honor the ancestors.

My mother, who married into the family, quickly adopted this recipe. I'm sure Daddy would not have accepted it any other way. Plus, mother's family did not have the mac and cheese Thanksgiving tradition. I'm the 4th generation, and although I've tried other recipes, there is NO WAY I'd attempt to put them on the the Thanksgiving table. My brothers would protest, and my husband of 25 years would pout with disappointment.

Traditional Recipe Adopted by the Strader Family


Ingredients
Preheat oven to 350°F. Coat a 9-by-13-inch baking dish with butter (or cooking spray).
1 teaspoon salt. Remember your cheese can be a bit salty, so adjust if needed
16oz of large elbow macaroni

2-3 12 oz cans of Evaporated milk. Do not dilute it.
I use Pet canned milk, because that's what "they" used.
Yes you can use whole milk, but anything else would be WRONG.

24 oz of sliced block cheese: Mild Cheddar cheese, Sharp Cheddar cheese and Colby Jack Cheese
I let my ancestors guide me, but no one has EVER said, "that's too much cheese." Oh...you can actually use any type of good melting cheese you like IN ADDITION TO the Cheddar and Colby.

8 tablespoons butter (1 stick), sliced.
Did someone say heart healthy? I know I didn't!

Black pepper to sprinkle on top.


Combine:

Transfer half of the cooked macaroni to the prepared baking dish.
Top with half the cheese and dot with half the butter. Repeat with the remaining pasta, cheese and butter.
Pour abt. 2 cups of milk over the top. Milk should be about half way up the pan. Add more if needed
Sprinkle top with black pepper.
Cover with foil and bake until hot and the cheese is melted, about 35-40 minutes.
Remove the foil and bake for another 10 minutes. You may wish to sprinkle on a bit of shredded or crumbled cheese on top, because the name is Mac and Cheese!

There are lot's of variations. Many people add a whisked egg or two to the milk to make a custard, but the original recipe did not ask for it, and we don't use it. I think, but not sure, that the egg addition was a Betty Crocker invention, circa 1950.
Thanksgiving Timeline
1789 Nov 26,
George Washington
issued a proclamation for "a day of public thanksgiving and prayer."
1863, President
Abraham Lincoln
encouraged Americans to recognize the last Thursday of November as "a day of Thanksgiving."
1870, Congress made Thanksgiving (along with Christmas Day, New Year's Day, and Independence Day) a national holiday.
President Franklin D. Roosevelt
also declared the last Thursday of November a national day of thanks; but for two years he moved it to the third Thursday of November. This was to benefit businesses and extend the Christmas shopping season during the Great Depression. 1940, he President Roosevelt returned it to the last Thursday of November.
Be Historically Correct

a3genealogy.com

Accurate Accessible Answers

a3genealogy@gmail.com