It's Not Just About the Oklahoma 5 Tribes!
When your grandparents claimed they were of Native American heritage, that does not mean they were from one of the well-known 5 Oklahoma tribes. A recent client had ancestors who settled in Nebraska, received land in Nebraska, served in the military, and yet descendants were rejected from their Nemaha tribe of Nebraska on land records just a few years earlier.
Where to look for a Hint of Native American Ancestry?
1. Military Veteran Records.
If you are looking your Native American in the 20th century, military records are a great place to start. During World War I approximately 12,000 Native American soldiers served in the U.S. Check out these resources:
2. Indian Scouts and Code Talkers
It was due to their recognized efforts in WWI, that all Indigenous peoples in the US, were given citizenship in 1924.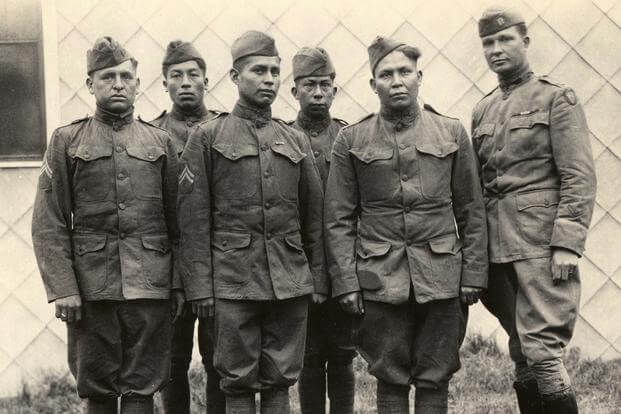 A squad of Choctaw Code Talkers in Camp Merritt, New Jersey. From left: Cpl. Solomon Bond
Louis, Pvt. Mitchell Bobb, Cpl. James Edwards, Cpl. Calvin Wilson, Pvt. George (James) Davenport, Cpt. Elijah W. Horner. Photographer: Joseph K. Dixon | The Indiana University Museum of Archaeology and Anthropology
3. National Archives: American Indian Records in the National Archives

Half Breeds and Mixed Bloods of Omahas, Iowas, Ottoes, Yancton & Santie Bands of Sioux
1861 Land Patent, Nemaha



4. Court Record, BIA, NARA-KC
Omaha Nation, Nebraska, Land, KC-NARA, BIA
African Descent
Descendant was of "Affrican [?] Blood, Omaha mother, KC, NARA


Records created by the BIA can be found at many NARA research facilities throughout the country. There is no comprehensive index to these records. It is important to know the tribe and/or BIA agency to locate potentially relevant records.
5. Indian Census Rolls.
Be sure to read
Indian Census Rolls, 1885 - 1940
, on the archives.gov website. These are the censuses of all the tribes except the Five Civilized Tribes, from about 1885 to 1940. They do not include everyone who was an Indian, only those living on the reservations.
Familysearch, Native American Census Rolls, Wyoming, 1938
November is Native American Heritage Month. We also hear it referred to as American Indian and Alaska Native Heritage Month.
Other Resources
Accurate Accessible Answers
a3genealogy@gmail.com